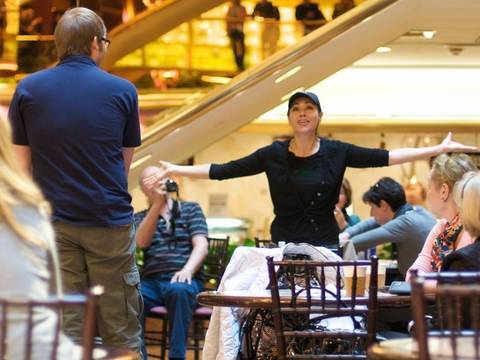 Leadership Lessons - Good Stuff (not the part I...
http://wp.me/pDyVa-1b
A Busy Week and a Good Quote
http://wp.me/pDyVa-11
Story of a Sickness
Thoughts on a serious illness - http://wp.me/sDyVa-sickness - and legos (in the previous post).
Thoughts on Faith, and everyone's favorite T.O....
http://wp.me/pDyVa-P
I've had a blog for two weeks, and I have already...
An interview with Richard Dawkins - http://wp.me/pDyVa-J
Christmas Came Early This Year
Mission Lazarus is doing some amazing things for God in Honduras! - http://wp.me/pDyVa-x
Turn of the Century
Thoughts inspired from a time long ago - http://wp.me/pDyVa-t 
Newman
I think we can all agree that everyone's day is made better by a visit from this man. http://wp.me/pDyVa-r
It is Better to... →
The long wait is over…a new blog post! Try to contain your excitement.
"You know, in the 90's when we quit a show, we actually quit it. But not in..."
– Jerry Seinfeld to Jay Leno, trying to understand why Leno has another talk show
Family Fun Day
We had our Family Fun Day yesterday, and we had a great crowd - http://wp.me/pDyVa-h. More importantly, my team won when we played some 2 on 2 basketball. Don't ask me if the goal was 10 feet or not - that's not important.
Exciting news...ok not that exciting...moderately...
I started a blog on wordpress, just because it is easier for me to format and do comments, etc. - andrewdphillips.wordpress.com.  But, I still plan on posting some at Tumblr and keeping up with it. So…that's about it.
Watch
Just to follow up from the last post - Dad sent me this link a couple of months ago. A speaker at the Memphis area minister's luncheon talked about using presentation software, and he included this link in his notes. I thought it had some good reminders. What do you think?
Watch
One of the exciting things about having a better projector in our auditorium is that people can now see what is projected on the screen - it is no longer a distraction. Because of that, my challenge is not to get carried away and put so much on the screen that it becomes a distraction. I'm a fan of visuals, and I am always trying to use them effectively, but there are definitely limits....
4 tags
A Birthday Plan
So, I have been thinking over the past few weeks, and I plan on using this blog more regularly. I have had this tumblr account for a while, and I have been using it to keep up with my friends and see what they are doing more than anything else. But, I have noticed how much I have gained from blogs by friends I went to school with and have gotten to know in ministry and in life. I want to try to...
Getting Ready for the Games →
So I got an e-mail today that said I had officially been registered and my fee had been paid for the Oklahoma State Senior Games. And no, they don't mean Seniors in high school. I called the number listed, and the lady asked if I was the Andrew D. Phillips who was 92 years old. Even though I have a birthday coming up on Friday, 92 is still a long way off. So, they mistyped his e-mail address...
Peace in the Middle of Chaos
(This is going out in our bulletin this week.)       I don't know what it is - maybe it is the flood of information available to us in this era of facebook status updates and 24 hour news stations, maybe it is the recent economic situation, or maybe it is just the everyday events in life, but it seems like chaos is all around us. It is hard for us to catch our breath from one problem in time to...
Trying New Things
Here are three new things I tried during last Sunday morning's sermon: 1.   Our new projector - it worked great. When using our old projector, it was a strain even to see a clear picture. We have long term plans for a much better a/v setup, but due to budget issues, we are going to have to wait on that. So, we got a replacement projector that is handling the job fine and can be used in the...
Just so you know...
I have not been posting much or actually using this blog very much lately. I plan on actually starting to use it, post stuff, and put more things on here. So, I am just preparing you for that. Consider yourself warned.
It all looks the same to me...
We have lived in Kentucky for about half a year now, and the people here have been very good to us. We have been able to reach some people, and we are making plans to do a much better job getting involved in the community. It is exciting to think about what God has in store for this congregation. Although we are so close to Nashville, it does seem obvious to me that we live in a different state...
Church website
Here is the link to our new church website - www.churchofchristcd.com. Now, this is my very first attempt at website stuff, so bear that in mind as you check it out. Plus, there will be changes when we get our new logo, etc. But, we need to get something out there. Plus, I didn't realize until the other day that the template I chose, plus the picture, uses Psi Mu colors. Psi Mu lives!
Watch
I can never tell when Colbert is in character or not, but he actually brings up some really good points in his interview with Ehrman, a Biblical critic. Ehrman is writing about things that have been discussed in scholarly circles for years as if he is the first person to ever discover them. I won't go on and on about my response to Ehrman's objections…I will let Colbert do my...
"Ummm…don't you remember when God wrote the Bible and made..."
– 4 year old outside my office (my office is located in the same hallway as our Christian School - I hear many debates and discussions from preschoolers)